NIO and Shell announce an agreement
December 1, 2021
Last week, NIO announced that they have entered into a strategic agreement with Shell, the largest gasoline retailer in the world. The latest move is a boost for NIO to further establish themselves in the electric vehicle industry.
The agreement includes plans to construct and operate battery charging and swapping facilities in China and Europe. NIO and Shell plan to install 100 battery swapping stations in China by 2025 and start to construct and operate pilot stations in Europe from next year.
Both companies will also explore collaboration opportunities in battery asset management, fleet management, membership system, home charging services, advanced battery charging and swapping technology development, and construction of charging facilities.
William Li, Founder, Chairman, CEO of NIO commented on the agreement: "The cooperation demonstrates Shell's determination to accelerate the energy transition and commitment to contribute to sustainable development globally. We believe that the cooperation between NIO and Shell will bring better services and experience to electric vehicle users worldwide."
István Kapitány, global executive vice president of Shell Mobility said: "Decarbonization is a global challenge that requires broad-reaching, multi-faceted global solutions. This is the most exciting thing about our new partnership with NIO—the breadth of the collaboration and the value we can offer our EV customers together, both in Europe and in China. Together, we'll be working to improve every aspect of the EV experience. This means we'll offer Shell Recharge high-speed charging at NIO locations and make battery swap available at convenient Shell locations while also offering NIO customers our best home and business charging solutions."
Shell has service stations in nearly 46,000 locations in 80 markets around the world. The company is planning to operate more than 500,000 electric vehicle charge points globally by 2025.
NIO Inc. Chart (1Y)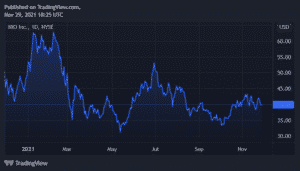 Share price of NIO is down by 19.93% in the past year at $40.46 per share.
NIO is the 12th largest automaker in the world with a market cap of $63.20 billion.
Sources: NIO, Shell, TradingView, CompaniesMarketCap
Next: Up next: the Bank of Canada rate decision
Previous: How do dividend adjustments work on my Index CFD position?