European and US markets hit all time highs, Bitcoin breaks out, the Dollar slides
April 16, 2021
By Lachlan Meakin
Equity markets
US stocks jumped overnight to reach record levels as stronger than expected print on retail sales and a sharp improvement in the number of new jobless claims cheered the investors.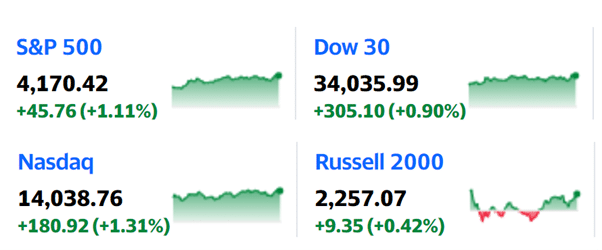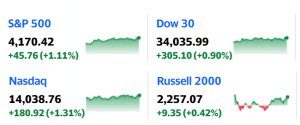 Source: Yahoo Finance
US reporting season kicked off this week with impressive results so far from Finance heavyweights JP Morgan, Goldman, BOA and Citi, all handily beating estimates.
The week's economic figures, strong corporate earnings and comments from Fed Chairman Powell regarding the commitment of the central bank's easy money policies have seen US markets make all time highs on an almost daily basis.
European stocks also hit record highs this week with the EUROSTOXX 50 breaking 4000 and having rallied nearly 80% from the pandemic lows in March 2020.
Analysts are confident there is further upside in Europe as prices remain low compared to the U.S and vaccination rates climb to catch up to the U.S.
"European equities are set to benefit from a sharp acceleration in euro area GDP (gross domestic product) growth over the coming months, but that is due to the boost from reopening and the support from a powerful U.S. recovery, rather than a function of the dispersal of NGEU funds," two analysts at Bank of America said in a note to clients.
World equity indices are mostly up for the week with only Asian indices lagging.
Traders will be watching today's upcoming Chinese figures, including the all-important GDP figure, which is expected to be the highest quarterly economic growth since it began releasing such figures 30 years ago.

Source: Bloomberg
Forex markets
The US dollar weakened dramatically during the week, under performing all major currencies bar the Canadian dollar. Despite a strong week in Oil, current COVID lock down measures in Canada are causing a headwind for the Loonie.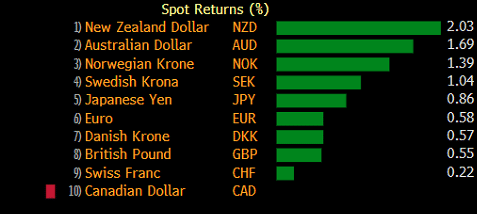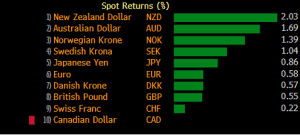 Source: Bloomberg
The recent run up in the US dollar index in tandem with rising 10 year bond yields has reversed in April as yields stabilise and are starting to decline. Overnight 10 year Treasury yields dropped to 1.57%, its lowest level in a month.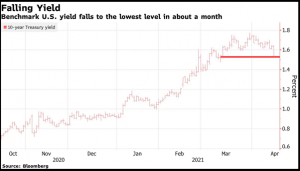 Source: Bloomberg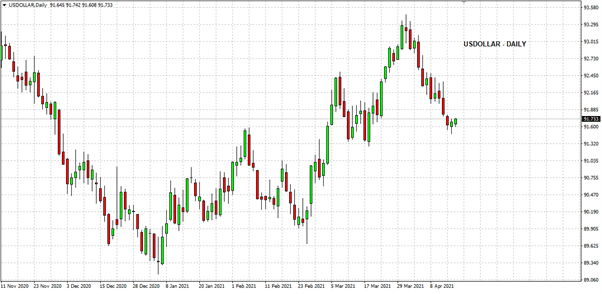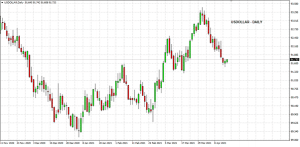 Source: GO MT4
Commodities
Gold
Spot gold (XAUUSD) rallied this week on the back of a weaker US dollar.
US CPI figures also came in higher than expected this week, giving gold an extra boost as it is seen as a traditional inflation hedge.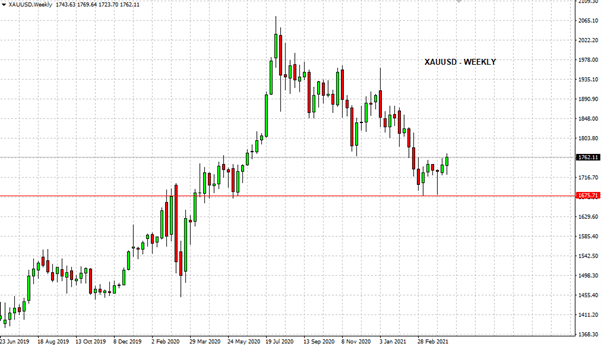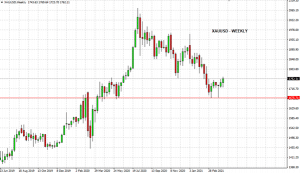 Source: GO MT4
Oil
US crude prices rallied strongly this week on continued expectation of a global economic recovery.
Agreed production cuts have also given Oil a boost as OPEC is holding back just over 7 million barrels per day, with Saudi Arabia voluntarily cutting an additional 1 million barrels per day.
From next month OPEC+ will start gradually curbing production cuts. In May OPEC+ will allow an additional 350,000 barrels per day to join the markets.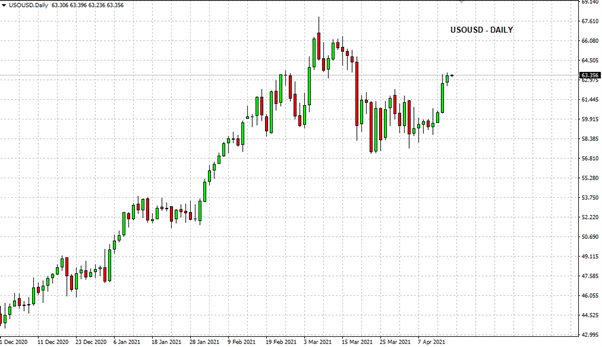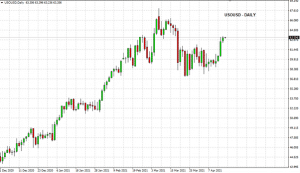 Source: GO MT4
Bitcoin
The highly anticipated Coin base (COIN) IPO launched this week, with investors piling into the new stock.
This mainstreaming of cryptocurrencies in general and Bitcoin in particular saw strong buying in Bitcoin pushing it through the 60k resistance level and hitting all time highs just short of $65k USD.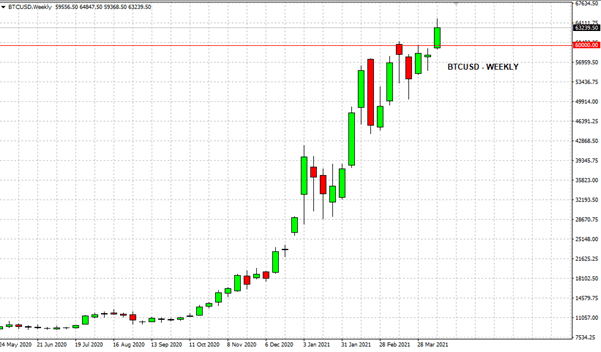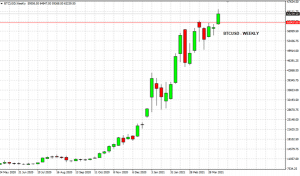 Source: GO MT4
Monday, 19 April 2021 
Indicative Index Dividends
Dividends are in Points
ASX200
WS30
US500
US2000
NDX100
CAC40
STOXX50
0
0
0
0.005
0
2.808
1.234
ESP35
ITA40
FTSE100
DAX30
HK50
JP225
INDIA50
0
79.017
0
0
0
0
0
By Lachlan Meakin
Disclaimer: The articles are from GO Markets analysts, based on their independent analysis or personal experiences. Views or opinions or trading styles expressed are of their own; should not be taken as either representative of or shared by GO Markets. Advice (if any), are of a 'general' nature and not based on your personal objectives, financial situation or needs. You should therefore consider how appropriate the advice (if any) is to your objectives, financial situation and needs, before acting on the advice. If the advice relates to acquiring a particular financial product, you should obtain and consider the Product Disclosure Statement (PDS) and Financial Services Guide (FSG) for that product before making any decisions.
Next: Salesforce Q2 numbers are in
Previous: See-sawing equity markets, US Dollar strength and stimulus hopes